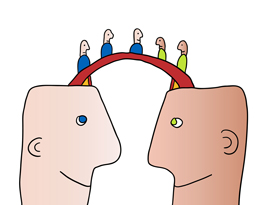 Effective communication takes an idea from one person's head and puts it into another person's head, with a minimum amount of translation error.
Sounds simple, doesn't it?
It isn't.
Heck, even for me, it's kind of tough to write this copy. I want to impress you with my writing skills, but really clear writing can have the disadvantage (at least for me) of sounding like anyone can do it, when in fact it's a skill that requires talent, discipline and experience.
You probably understand that to some degree already, or you wouldn't be looking for a copywriter.
Other pages of this website will tell you more about my experience and show you samples of my work, but you probably want to know right now if I'm the kind of writer you need.
Okay. I'm the kind of writer you need if…
• You want to sell more products or services
• You want to clearly explain to a general audience something rather technical
• You want your corporate communications to be clearly understood
• You want a writer who works fast and always meets deadlines